Some time ago I came across some paper snowflakes that were really cool. So I went out and found more so I could share them with you. These are no ordinary paper snowflakes—these are geek paper snowflakes!
We have a roundup of Star Wars, Batman, Doctor Who, LEGO and Minecraft snowflakes and more! What Fun!
We get a lot of comments asking for ways to get boys crafting and I thought this would be a fun way. We added it to our activity for boys list. Now you get to decorate your house in an awesome geeky way.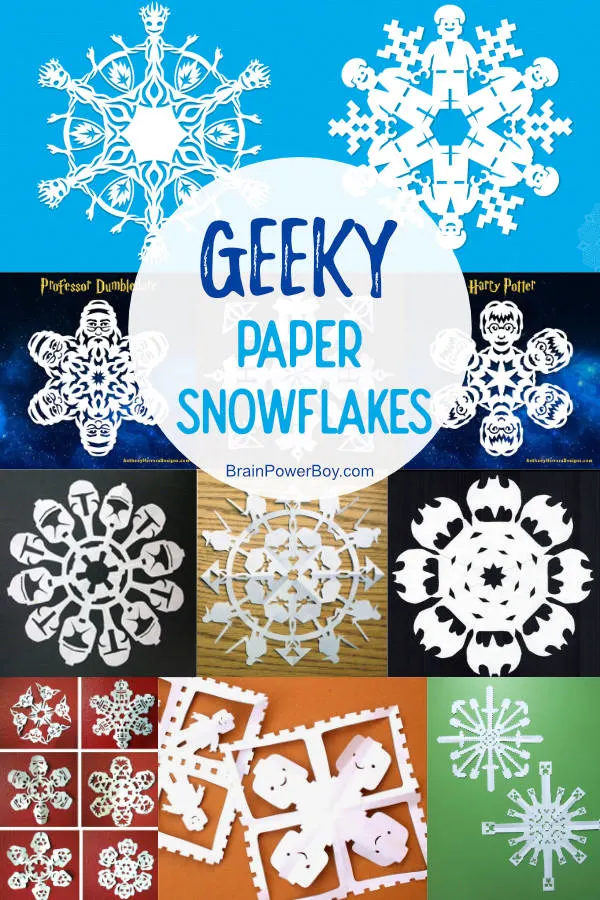 This post may contain affiliate links which means I may receive a small commission, at no cost to you, if you make a purchase through a link. All opinions are my own and I share things I think would be of interest to boys.
Tips for Making Paper Snowflakes
You may want to watch the videos below before starting as they show how to fold and cut the snowflakes. We found them really helpful.
Materials Needed:
Paper – obviously. However, I mention paper because I like to use higher quality paper for snowflakes. It is a bit harder to cut but you have less chance of them falling apart or tearing, and you get nice clean cuts.
Sharp scissors (here are our favorites!) Don't try these detailed geek snowflakes with a dull scissors. It will only lead to frustration.
If you have a small head punch like this it is really helpful for the eyes you need to make on the LEGO snowflakes. But, the main reason we use it, is for making a hole in a tight spot where it is tough to get your scissors started. We make a tiny hole, stick the tip of the scissors into the hole and off we go. Much easier. It may be hard to get the punch to go through so many layers of paper–if you have this problem just unfold the snowflake a bit and punch each section.
Make your folds nice and sharp. You could use a bone folder, or your fingernail.
Obviously since the supplies include sharp scissors and you will want to be careful and use proper supervision and do at your own risk. You know at what age your child can handle a project like this.
Geek Paper Snowflakes
We have been talking about snow ever since I found some very neat snowflake books. We have been learning a lot about them and marveling at the images in the books.
And we also like to make things so . . . we went searching and found these cool ideas.
Star Wars Snowflakes
Anthony Herrera and friend show you how to use his downloadable templates to make some awesome Star Wars snowflakes.
They share their folding and cutting techniques. It is worth taking the time to watch the video.
Great images of the Star Wars snowflakes are available over at The Joys of Boys and you can go to Anthony Herrera's website for many more Star Wars designs—note: he also has Frozen snowflakes.
Here is a Boba Fett and Darth Vader Snowflake set with printable template and folding directions.
For yet another Star Wars option try these designs. They are quite complex. I think they would be best for older boys as patience will be required!
Doctor Who Snowflakes
Oddly Crafting shares his Doctor Who Snowflakes including a Tardis and eleven other designs.
Harry Potter Paper Snowflakes
You can't miss this one if you are a Harry Potter fanatic. Love the lightning bolt center! This one is cut with an Exacto knife so keep that in mind if you decide to try it.
Anthony Herrara has some incredible choices including Harry Potter, Hermoine Granger, Ron Weasley, Severus Snape, Voldemort, and my favorite, Professor Dumbledore. You have find all of his Harry Potter Snowflakes here.
Guardians of the Galaxy Snowflakes
Groot! This one is so neat.They say that you need Martha Stewart skills (lol) in order to make it so it is going to be for older boys for sure. Or, just help them.
Mario & Legend of Zelda Snowflakes
Obviously Mario and Zelda have nothing to do with each other except that they are geeky but they are both found in the same place so I had to add them together here. Go check them out at The Nifty Nerd.
Batman Snowflakes
We designed a Batman Bat snowflake and I can tell you it was a lot of fun!
Batman makes another appearance here as well. This is a Batman head instead of the bat symbol. There is an Ironman Snowflake too.
LEGO Snowflakes
LEGO Snowflakes? Yup! Pink Stripey Socks made a LEGO Minifig and a Minifig Head. I suggest using the punch I mentioned in the Tips for Making Paper Snowflakes section above for the eyes instead of trying to cut them with a scissors.
I found another paper snowflake over at delphitic digital. Theirs is a The LEGO movie version.
Minecraft Snowflakes
We really can't leave out Minecraft, can we? Joys of Boys made some neat Minecraft Snowflakes from a design on Instructables which includes a step-by-step tutorial.
There are some really neat geek snowflakes here aren't there? Which ones do you plan to make?
If you enjoyed geeky paper snowflakes, why not try Christmas Ornaments for Boys! There is a lot of geeky goodness in there as well.