This Leonardo da Vinci homeschool unit study will give both of you a chance to learn a lot while having fun. We gathered together some awesome resources and there is plenty to explore including activities, books, art, and game.
Leonardo da Vinci is someone who is so very interesting to study. He was, indeed, a Renaissance man. He was into everything from paintings (The Mona Lisa, The Last Supper) to machines (helicopter, armored war machines.) He created flying machines, bridges, maps, and so much more.
His designs have been used to create many modern items. It is hard to image one man doing all that he was able to do in his lifetime. Leonardo is fascinating.
Use this Leonardo da Vinci Homeschool Unit Study to discover interesting information and to have fun learning about Leonardo da Vinci.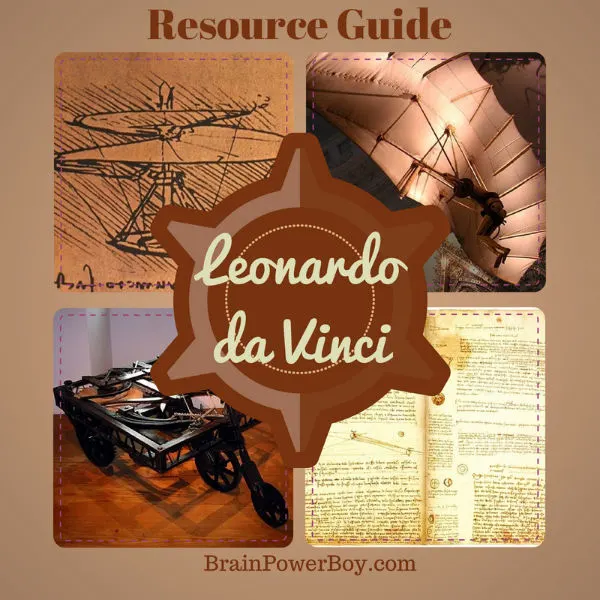 Special thanks to Wikimedia Commons for use of the images in the collages.
We have included quotes from Leonardo da Vinci in this article–I hope you and your boy like them.
It had long since come to my attention that people of accomplishment rarely sat back and let things happen to them. They went out and happened to things. ~Leonardo da Vinci
We were lucky enough to go to the Leonardo da Vinci exhibit when it came to a community nearby. It was an incredible experience. The exhibit itself is spectacular, with video, large wooden replicas of Leonardo's machines, copies of sketches and more. We had a great time.
If this exhibit is within driving distance and you are interested in learning more about da Vinci I can think of no better way than to attend. The pictures of the hang-glider and the automobile above are similar to the types of things we saw.
This post may contain affiliate links which means I may receive a small commission, at no cost to you, if you make a purchase through a link. All opinions are my own and I share things I think would be of interest to boys.
Leonardo da Vinci Homeschool Unit Study:
Leonardo da Vinci Games:
Leonardo's Mysterious Machinery. Multiple choice guessing game to see if you can figure out what Leonardo's invention would be used for.
The Leonardo Game from the BBC is a very well-done game that is a lot of fun to play. You are Leonardo and your inventions plans have been stolen. You must go through different levels to catch the thief. What we really liked was that you get to use Leonardo's inventions throughout the game. You drive a tank, fly a hang glider, dive in a submarine and drive a motorbike as you race to catch the thief. You also need to get additional parts for the invention to upgrade your vehicles. Really, really fun! Note: This is slightly intense in parts and may not be for young or sensitive boys–you decide. UPDATE: This game is now only available to those in the UK.
Fun da Vinci. The object of the game is to get the cannon balls into the urn. You are given static objects, dynamic objects (affected by gravity,) and trampoline pieces to help you meet your objective. This really adds to the interest and complexity of the game. I had trouble with the rotate but my son easily figured out how to use it. Just click on rotate, hold and move your mouse side to side to rotate your piece. This game is challenging, has great music, and there is a quote after each completed level. I really like Fun da Vinci a lot and hope you and your boys will as well.
Learning never exhausts the mind. ~Leonardo da Vinci
Leonardo da Vinci Art:
Leonardo da Vinci.org website has the complete collection of paintings by Leonardo as well as a brief biography.
"Draw" your own Mona Lisa. This clever activity has the face and hands of the Mona Lisa present with the rest of the page blank to fill in as you will.
There are a few slide shows with Leonardo's drawings that you might enjoy. Ground Vehicles, Water Devices, War Machines plus some info on his inventions and his drawings as well.
The noblest pleasure is the joy of understanding. ~Leonardo da Vinci
Books on Leonardo da Vinci:


See also the great book list from Time Warp Trio in the activities section below.
Leonardo da Vinci Homeschool Unit Study Activities:
There are several "foldies" here that you can put together. Foldies are printouts that you can fold into an object. There is a tank, sub, motorbike and hang glider for you to try. Scroll to the bottom of the motorbike link for the other foldies. UPDATE: These are now only available to those in the UK.
Workshop invention challenge. Create an invention of your own using the pieces in the pdf. I don't know if you can still send in your invention as this site is a bit old but it might be fun to do just for yourself. UPDATE: These are now only available to those in the UK.
Leonardo da Vinci for Kids: His life and Ideas by Janis Herbert is a wonderful free pdf with 21 activities included. It tells the story of da Vinci from his birth to his death with information about his art, his inventions and more included. The activities are simple and don't require any special materials. Very well done and worth checking out. Note—depending on your views some material may not be right for your family. If you would rather get a copy of the book you can click through on the book image.
Leonardo wrote in Italian starting on the right side of the page and moving toward the left. just the opposite of the way that we write. Try mirror writing for yourself on paper or you can type something in here and see what it looks like. While not in Italian, it is in a fancy font.
This is really cool. You can take a look at pages from Leonardo's notebooks. Click on the blank page to start, you may have to zoom in to see the pages and get them to become clear.
There are a few activities on the Time Warp Trio Adventures of Leonardo da Vinci site because of this book Da Wild, Da Crazy, Da Vinci #14 (Time Warp Trio)
. They also have a nice book list if you would like to do further reading on Leonardo.
Build your own catapult! We have a selection you don't want to miss.
Here are 3 models that we saw when we went to the Leonardo exhibit and they are made of wood and are quite nice. I think a few of the pieces could use a little bit of sanding but other than that they were of high quality. They do require you to glue pieces together but the models are for beginners.


Throw together a box of recycled items and have your boy create a da Vinci invention all his own.
Here are a few questions to ask:
What does it do?
How does it work?
What is it called?
Who would use it?
How would it benefit them?
Don't worry about the product he makes, just let him enjoy the process and the experience of invention.
Study without desire spoils the memory, and it retains nothing that it takes in. ~Leonardo da Vinci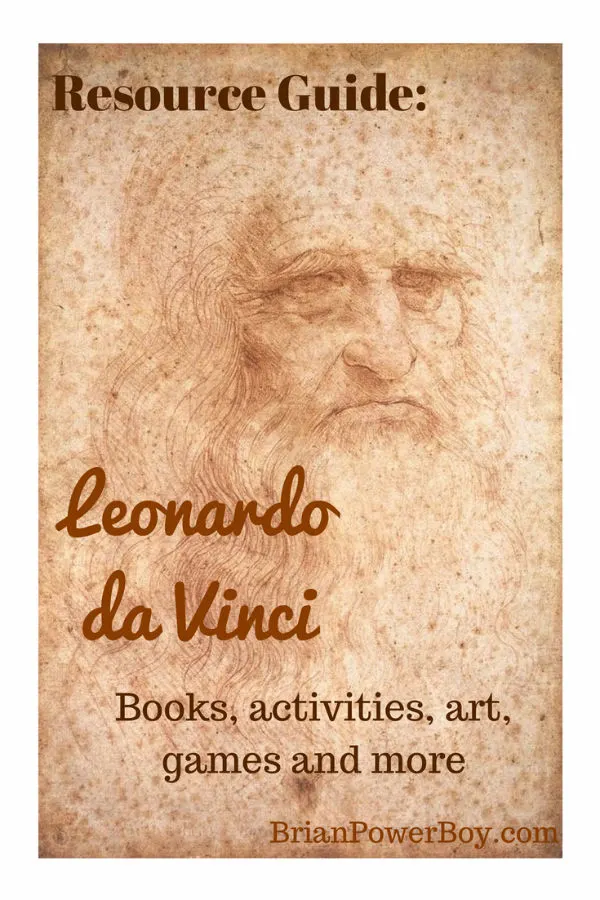 I hope you enjoyed this Leonardo da Vinci Homeschool Unit Study. If you did, please take a second to use the sharing buttons below. Thanks much for stopping by 🙂
Other resource guides you might enjoy:
Play and Learn with Rube Goldberg
Dig this Dinosaur Fossils Resource Guide
See all BrainPowerBoy homeschool unit studies here.