If you are shopping for a gift for a Star Wars fan and want to make it super special, check out these Personalized Star Wars Gifts! I guarantee you will not go wrong with any of these choices.
Being able to personalize gifts makes them oh so much better. And it is even more fun to give these gifts because you can be assured they will be surprised to see it was made especially for them.
Why are personalized gifts special? I'll give you three reasons.
They are unique!
The person you are buying for knows you put effort into getting a gift.
A customized gift is more meaningful since it has a name or date or message right on the item.
Ready to have a look at these wonderful Star Wars gift ideas you can buy?

I've put a bunch of them below, but also want to point out that I have other options in my Etsy Favorites that you may want to see as well. Etsy allows you to save your favorite items and create lists. I thought it would be fun to share mine with you!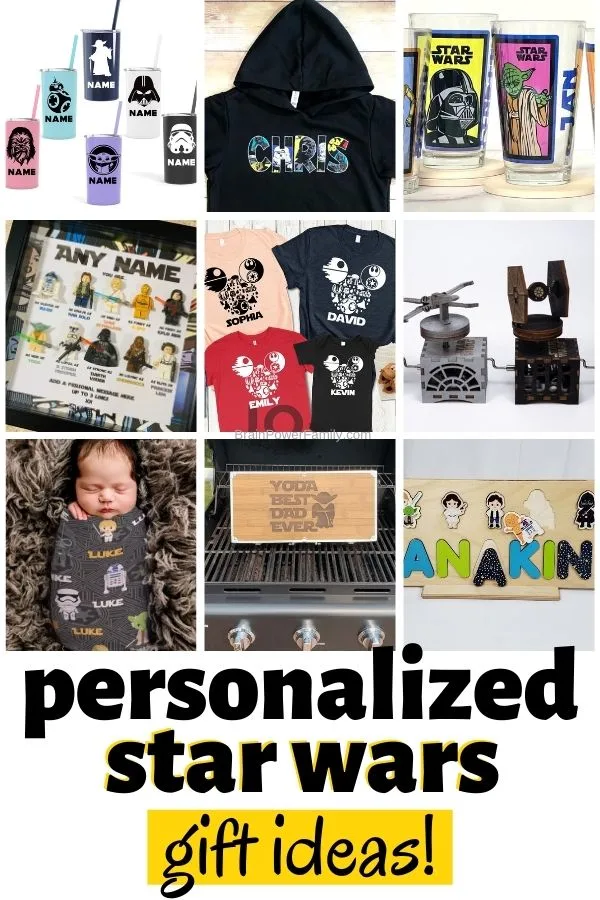 This post may contain affiliate links which means I may receive a small amount, at no cost to you, if you make a purchase through a link. All opinions are my own and I share things I think would be of interest to you and your family. Special thanks to Etsy who gave me a small gift card for my time to facilitate this post.
Personalized Star Wars Gifts Fans Will Love!
You know they love Star Wars and you want to get them something special. Be sure to browse through the items below. I just know you are going to find the perfect gift and that they will LOVE it!
In addition to the selections I shared here you can also check out my Etsy favorites list where I shared additional items.
There were so many cool personalized Star Wars gifts to choose from I couldn't add them all here.
Need more ideas?
Try our Personalized Gift Lists
Or our Star Wars Gift Lists