Grab some ideas for making Easter Eggs for Boys and get crafting!
As boys get older they have less interest in just slipping eggs into the dye and calling it done. These ideas are just the ticket!
Decorating eggs can be one of your Easter activities for boys even as they get older. You just might have to find some egg designs like these.
This post may contain affiliate links which means I may receive a small commission, at no cost to you, if you make a purchase through a link. All opinions are my own and I share things I think would be of interest to boys.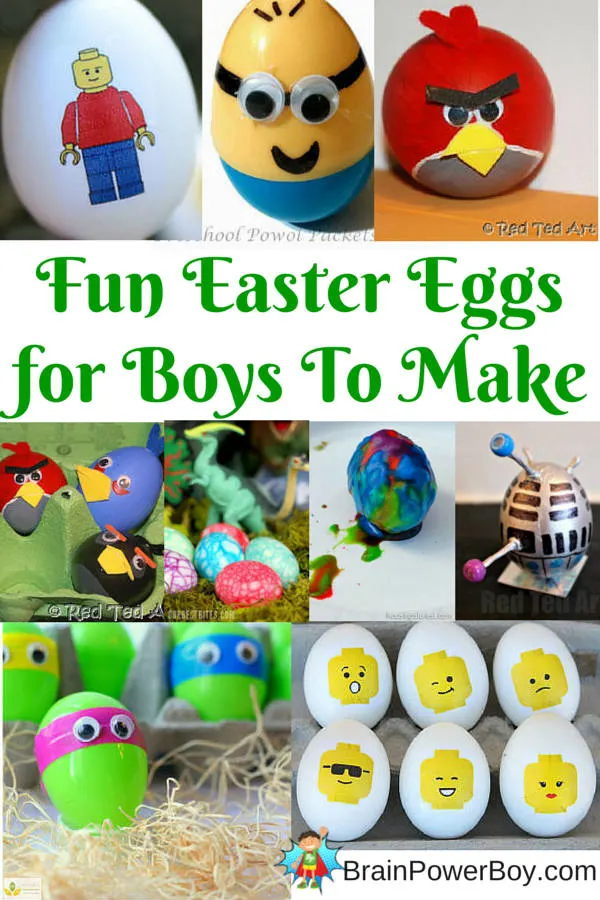 Easter Eggs for Boys
There are a lot of really neat designs out there.
I dug around on the Internet for a while and checked with some boys to make sure these passed the "cool" test as well.
I have to say, I did pretty good with only one rejection LOL
Oh, you know I love these, right? LEGO Easter Eggs. Super easy and so impressive. They use temporary tattoos. Check out these Star Wars ones as well for more inspiration.
Dr. Who Fans rejoice. You can make this Dalek Easter Egg.
Angry Birds Easter eggs including Red Bird, Black Bird, Matilda, The Blues, Chuck and Bomb look pretty darn neat. (No Throwing!)
These eggs are so very colorful and this is a science experiment as well as an egg coloring activity at the same time. Volcano Easter eggs for boys are sure to hold their attention!
Stomp on over for some Dinosaur Easter Eggs. These look like a lot of fun. I love how they look when they are done. You could also call them dragon eggs. If your boy is into dinosaurs click here.
These Super Mario Bros eggs are hard boiled and then painted but I would likely blow eggs out and use markers instead. It would be much easier for most boys to manage. Go to the site to see the designs.
If you want to go with plastic eggs here are two winning choices.
Try out some Minion Easter Eggs. Too funny!
Do you have a TMNT fan on your hands? Then the Teenage Mutant Ninja Turtle Easter Eggs would be the perfect project for them. These are super easy to make.
I hope you enjoyed this collection! I'm sure you will find some Easter eggs boys will like.
It was a lot of fun gathering them together.
I hope they work to get your boys crafting and as a way to keep them excited about decorating Easter eggs.
You can also try our Easter LEGO Designs which includes 2 LEGO Easter Mosaics and a Easter Bunny with basket, and our Easter Basket Gift Ideas for Boys. You could also try this Easter Egg Drawing Challenge.
If you would like more fun ideas for boys please sign up for our newsletter today. Thanks for stopping by!