Ready to make your own Minecraft Creeper? Promise he won't blow up 🙂
Minecraft. I cannot begin to tell you how much I know about Minecraft! And it is probably just the tip of the iceberg compared to what my son knows about all things Minecraft.
For today's article, my son made this awesome Creeper Perler bead pattern.
I am a fan of Minecraft for many reasons and will likely write about that another day. I think he did a great job and I am happy to share his project with you today.
Be sure to see all of our Perler bead patterns including more Minecraft creations.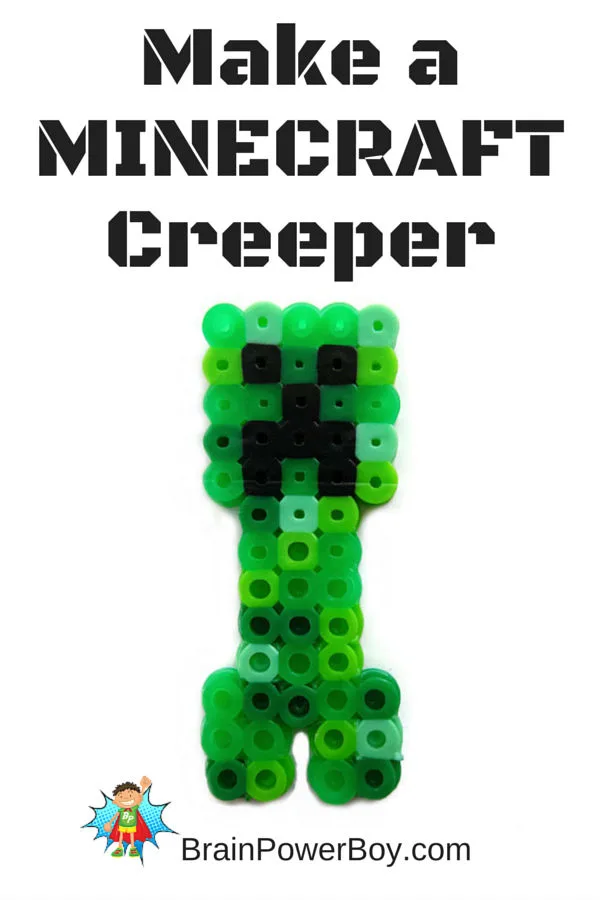 This post may contain affiliate links which means I may receive a small commission, at no cost to you, if you make a purchase through a link. All opinions are my own and I share things I think would be of interest to boys.
Perler Bead Pattern: Minecraft Creeper
We are doing a whole series on Minecraft Perler Bead Patterns so be sure to stop back to see the other ones.
Perler Bead Creeper Supplies:
Creeper Perler Bead Pattern
To make the Creeper I will give you some basic directions and dimensions. You can use the image for reference.
The Creeper is 5 beads wide and 13 beads tall
His body is 3 beads wide
My son made him in all green and then replaced the plain green with other shades of green to make the textured (mottled) look.
He used the standard colors that came with the mixed color jar: Black, Green, Dark Green, Kiwi Lime, Pastel Green and Black
Ironing was the hardest thing for me about working with the beads. My son likes the pixal art look so he didn't want them fully melted.
I had the best luck with keeping the iron moving and not pressing down much at all.
These projects are full of creativity. You can make about anything you can image. Make our Creeper or change the design a bit to make him all your own.
Be sure to check out our other Minecraft Perler Bead Patterns for Steve and a Ghast.
Be sure to stop by and see our big Perler supplies guide! I has everything you need and a few things you are certainly going to want.
Thanks for stopping by. If you liked this post you can use the sharing buttons below to save it.