Our article about LEGO Learning, "What They Learn When They Play," spoke about just how much kids can learn from playing with this wonderful toy. Now we have a free LEGO printable to go along with it.
There is so much learning that takes place when playing with LEGO. I have learned a lot myself just from messing around with the pieces and building a few things for our site.
I always knew that LEGO was a big learning tool but it wasn't until I started to think of all the different ways people learn that the benefits of LEGO play really kicked in for me.
Honestly, it it the top toy in our house and I can't really think of anything else that is such fun and comes anywhere close to being as great as LEGO is for providing so many different learning experiences at the same time.
The next time your son is spending hours playing with LEGO – be happy about it!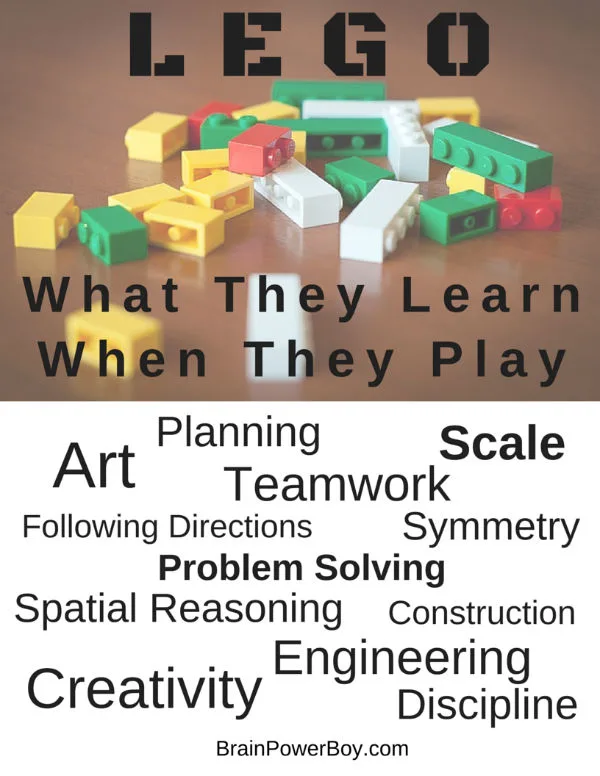 LEGO Learning Printable
We made this printable to highlight some of the main ways kids learn while playing with LEGO. There are of course many more. We hope you enjoy it.
LEGO Learning Printable <<<< click to print.
To read our article LEGO Learning: What They Learn When They Play click through.
And by all means, dump out the LEGO and let those kids play to their heart's content!
Feel free to print this for personal use. If you would like to share it with teachers, homeschoolers and others who may enjoy it, please send them the link to this post or use the sharing buttons to share it with them. (In other words, don't distribute it yourself or share the pdf, have them come here to print it – thanks!)
Enjoy!
Like LEGO? Try our big LEGO page! You might also enjoy Activities for Boys and Best Books for Boys.