Did you know you can tie dye with Sharpie markers? It's true! Check out all the amazing Sharpie tie dye ideas we found. You are going to l.o.v.e. them.
Not only is this a super easy way to tie dye and get a great result but you do not need to deal with liquid dye so it is a lot less messy as well.
I am a big Sharpie fan and my family got me a big set for Christmas that had a lot of great colors in it.
This post may contain affiliate links which means I may receive a small amount, at no cost to you, if you make a purchase through a link. All opinions are my own and I share things I think would be of interest to you and your family.
All you need to tie dye with Sharpies is:
A set (or several sets!) of Sharpies from the list below
Some isopropyl alcohol / rubbing alcohol to apply to the item after coloring with markers. Read labels for precautions and use safely
Disposable pipettes or an eye dropper. I like disposable in this case.
Optional: the fixative I have at the end of this post
I'll share my favorite sets so you know which ones will work the best and what I like about them.
When it comes to Sharpies, the more colors you have the better!
Best Sharpie Markers for Tie Dye
Brush Tip Sharpies – set of 12 in basic colors with a few others such as turquoise, purple and berry.

I really like the tip on these because it seems easier to use and allows you to draw fine, broad and blended lines.
Cosmic Colors Sharpies– set of 24 colors that are space inspired.
The colors are fabulous and the set offers a great variety of shades some of which are paler in tone.
These are nice for a different, softer twist on tie dye.
Electro Pop Sharpie Markers – set of 24 will give you exactly what they say . . . pops of color!
They are bright, vibrant and saturated for a great tie dye look.
Neon Sharpies – set of 2, 4 or 12 markers which are bright, bright, bright!
These neon colors can actually be seen under a black light which is pretty cool and they also look great if you are going for a neon look.
Classic Ultra Fine Sharpie Markers – set of 24 that includes some great colors.
One thing I really like about this set is the markers have a very fine tiny tip and that allows you to go in and add details later. You can also use them to add dots on top of colors or outline areas of the shirts.
Overall, you can't go wrong by adding these to your marker collection.
Ultimate Sharpie Marker Set – includes 72 markers!
This one is bigger than the set I had (which they don't make any more) and it is the one I will buy when I need to replace mine. It has everything you need.
The color selection is great and they have a variety of tips included. The ultimate set is a winner!
Metalic Sharpie Markers – set of 6 that I use these for adding details to tie dye items because they have a nice metalic sparkle.
I have not tried them with alcohol yet to see if they spread out and give a nice dyed look but I plan to do so soon.
Either way, this set is worth getting because using these markers can be used to enhance the look of your projects.
Sharpie Chisel Tips – set of 6 that is great for when you need to cover a good amount of surface on your item.
Because the tip is much bigger you can color much faster with these. They are also great for bigger, bolder, thicker lines.
Fixative – if you want your project to stay nice and colorful and not bleed, you will want to apply a fixative to keep the color intact.
This is the one I recommend. Quilters have used it for years to keep different color fabrics from bleeding into each other on a finished quilt.
It works for tie dye projects as well! It is inexpensive and a small bottle will keep the color from bleeding on up to 24 yards of fabric so you should be able to do all your projects, no problem.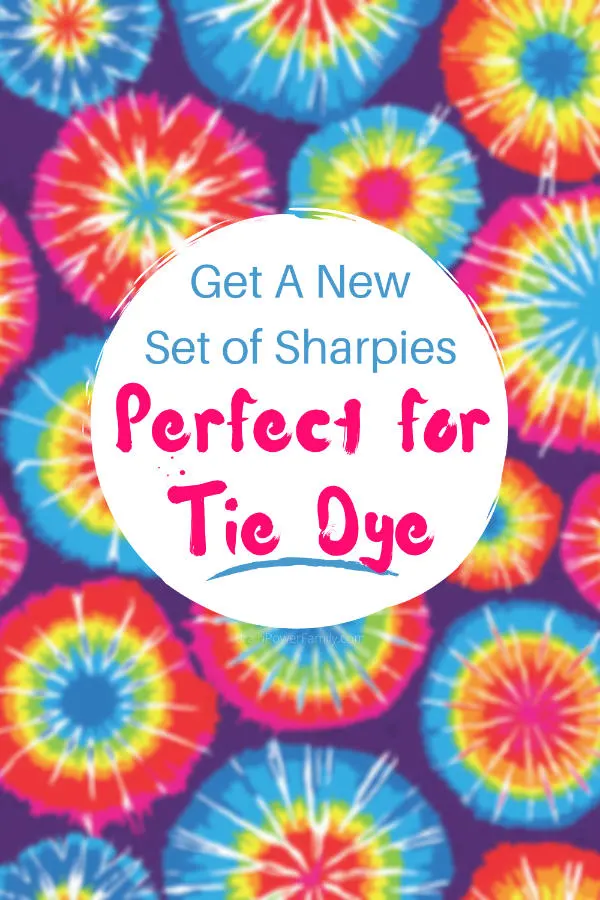 I hope you found the perfect sets of Sharpies for your next projects!

Pop over to our post on Sharpie Tie Dye Projects for some cool ideas.