My Posts were Featured on These Blogs!
Blogging can be a bit of a lonely business. I have not met most of my readers and I work alone from home. Plus it is a surprising amount of work! Just getting one post up can take many hours. First you have to get the idea, do the research, compile info, get an outline, write the post, create images, link things up, and so on (and on and on.) Other bloggers can help you get over the tough patches and they can help you to learn more about the best ways to share with your readers.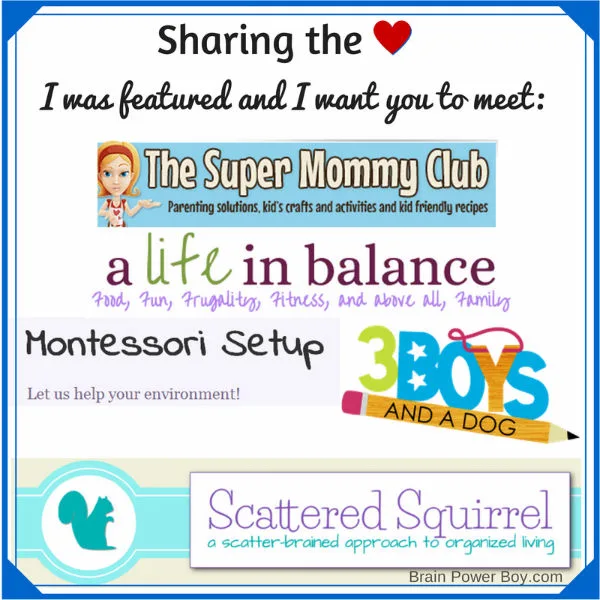 I wanted to introduce you to a few other blogs today. These bloggers are also working hard and I wanted to take the time to thank them for featuring my posts. If you get a chance to pop over and check out what they are doing, I promise you won't be disappointed.
Barb at A Life in Balance featured my Is it Nothing to Be Happy post. She blogs about homemaking, budgeting, food, kids, and organizing.
Kelli over at 3 Boys and a Dog featured my Alphabet Books for Older Readers post. She blogs about homeschooling and homemaking tips for busy moms. She has printables, recipes, money saving tips and more.
Clare at Super Mommy Club featured my Fun Activities for Boys and also gave me a Liebster Award. She blogs about kid friendly recipes (good ones!,) fun toddler activities, kids crafts and a bit about Disney as well.
Alli from Scattered Squirrel shared my Fun and Free Summer Activities at Home. Alli is the organizational printable queen 🙂 She has beautiful printables to help you organize your life.
I know if you take a moment to check out these wonderful blogs you will not be disappointed. I like every single one of them and that they featured my posts was really exciting! If you stop by tell them Sheila at Brain Power Boy sent you.