Time to make a Perler Bead Skeleton!
We are enjoying perler beads and making all sorts of things. Right now my son is into make Minecraft patterns for the blog.
Today we have a Minecraft Perler Bead Pattern Skeleton. The skeleton is a hostile mob (short for mobile) in Minecraft. It shoots players with a bow and arrow. Occasionally it might spawn with armor or an enchanted bow.
I think it turned out really neat.
I hope you enjoy this post which is part of a series of Perler bead pattern ideas including more Minecraft designs.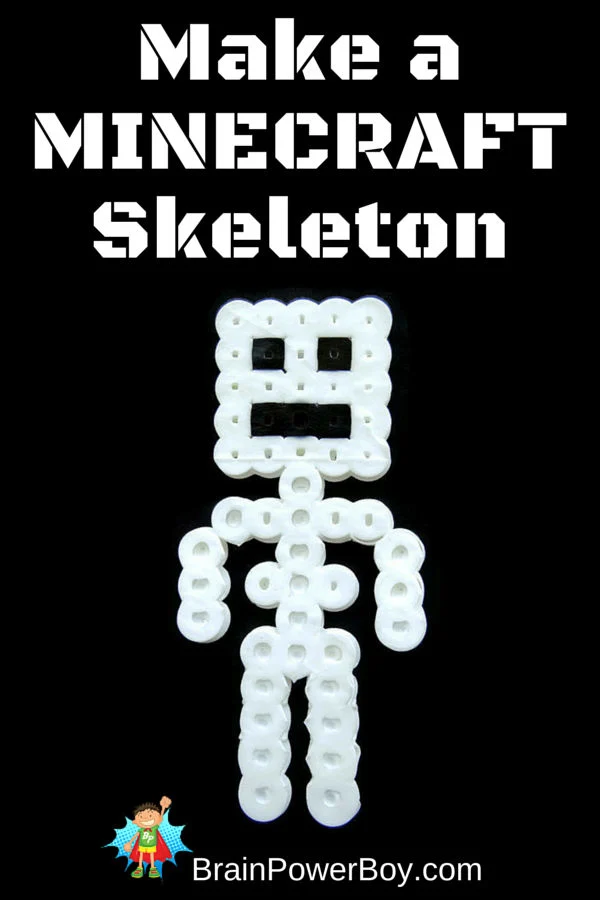 Perler Bead Pattern: Skeleton
Perler Bead Skeleton Supplies:
To see the Perler Bead Supplies we recommend click this link.
Minecraft Skeleton Perler Bead Pattern
To make a skeleton I will give you some basic directions and dimensions. Use the image for reference.
The skeleton is 15 beads high. It uses only white and black beads.
The head is 5 beads wide and 5 beads high. Use one bead for the neck.
The shoulder area is 5 beads wide.
The arms are 3 beads long and the legs are 5 beads long.
I wasn't really sure how the arms would turn out since they were only just touching the body. Before ironing I edged things together with a toothpick a bit to make sure they would stay together. I also started melting in those arm areas first and it all seemed to work fine.
I suppose they would break off if one were rough with them, but they have held up for us so far. (update – still just fine!)
I can't get over just how creative one can be when working with Perler beads. We are really liking them as a new art medium. You can make anything!
They are really great for learning too. You can help your kids to follow a pattern like this one, draw their own creation and try to make it out of Perler Beads, take a picture and see if they can recreate it in Perler, use them free-form and so on.
I hope you enjoy my son's Perler Bead Minecraft Skeleton Pattern.
Be sure to see our Perler Bead Minecraft Creeper and Minecraft Perler Bead Pattern: Steve as well.