Looking for the best books for 10 year old boys? We hear you. It can be hard to find the right books for boys this age.
No worries, we have you covered. And, all of these books boy-approved!
The key is to try to provide books that will engage them and keep them reading. Books that are interesting enough to make them want to pick them up and spend time either enjoying the story or going through them.
I specialize in book lists for boys. In fact, our best books for boys page is packed with books that are great for boys. Trust me, as a boy mom, someone who worked in libraries, and also ran boys' book clubs, I know what I am talking about.
When you are looking for books, you will want to keep a few things in mind. I can give you the list, and it is a great list if I do say so myself, but you also have to keep your reader in mind while choose.
At age 10 your boy is probably in 5th grade, unless you homeschool, then they could be in a different grade or no grade depending on how you do things.
The books boys this age read are more involved. Even from a year ago, their book choices have take a bit of a leap to titles with more pages, and more intricate stories. Since the stories are more involved, there are usually more characters to keep track of and more subtle plot twists to watch out for.
If your boy is not there yet, do not worry. Reading is a natural thing and some boys take longer than others to get up to longer books. This list will have a variety of types of books, so just choose what works best at this time. Plus, hopefully you are still open to reading to him which will solve that problem and allow you to help him along with the content if he needs it.
Do keep graphic novels in mind for age 10 as they are still very appealing and even the preferred by some boys.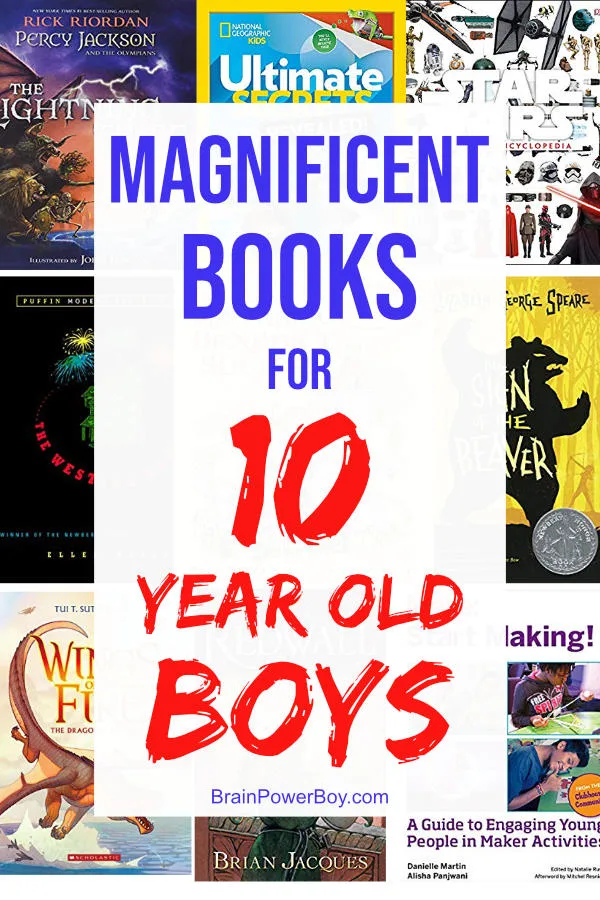 This post may contain affiliate links which means I may receive a small amount, at no cost to you, if you make a purchase through a link. All opinions are my own and I share things I think would be of interest to boys.
I am big on letting boys choose their own books, so show him this list and see what he might want to read. Letting him choose is a surefire way to keep him reading.
My "by age" book lists for boys always include non-fiction and there is a very good reason for that. They love facts! In every boys' book club I have run, boys were drawn to non-fiction titles.
Note: If you have a boy who is not reading or not reading well at this age, I know it can be stressful for both of you, especially if he is in school as they put a tremendous pressure on boys to make sure they are reading at the same level as their peers.
Allowing them to read for pleasure, without stress, is the best way to go. (I am not talking about reading issues here – that is a different thing altogether.) Many homeschoolers don't push their kids to read at a certain age. Reading really can come naturally.
I am very keen on regular library trips, but also on building up a collection of books in your home. They need to own books as well as just borrow them.
I wrote this book list to help you find books for your 10 year old boy. I hope between what I have written above and the books below that it is helpful to you.
The whole point of my website is to help you raise boys who love to learn and reading can be a big part of that!
Let's see if we can find some books for your boy that will in turn lead him to want to read other books.
Reading Level
Reading levels are tough for me! I am not a big fan of them. I don't care what the level of the book is that my son wants to read. It matters not.
I am aware this is not something you are going to hear from most people but I'm just being real.
I focus on interest first and foremost. Then I try to find the best books on that topic and present them.
Anyway, that said, I did want to provide these by age book lists because I got requests for them and I know people search for books this way.
Use the list as a jumping off point for finding more books your boy will like. If you keep him at the front of your mind when choosing you will do great.
Read the descriptions I added in here as well instead of just glancing through the covers. You may find a hidden gem.
If you are giving a gift, this list will be especially helpful as these books are boy-approved.
Let's see if together we can get these boys more interested in reading, and make it a lifelong enjoyment.
Here we go with the best books for boys age ten!
I hope you found some great books for 10 year old boys on this list! I will be adding to it over time and if something goes out of print, I'll switch those out as well.
Do let me know if you have some suggestions by leaving a comment. I love books and am always looking for new ideas.
You may also want to take a look at Best Books for 9 Year Old Boys as I am sure there are some that will appeal to your 10 year old on there as well.