Valentines for boys! Boys like valentines but sometimes it is hard to find ones they think are cool. There is a lot of pink out there folks!
We rounded up some dinosaur, volcano, Minecraft, mustaches, LEGO minifig and car valentines. Plus some superhero, alien, robot and pirate printable valentines I made for you to use. Fun stuff for boys!
All of these Valentines pass the boy test.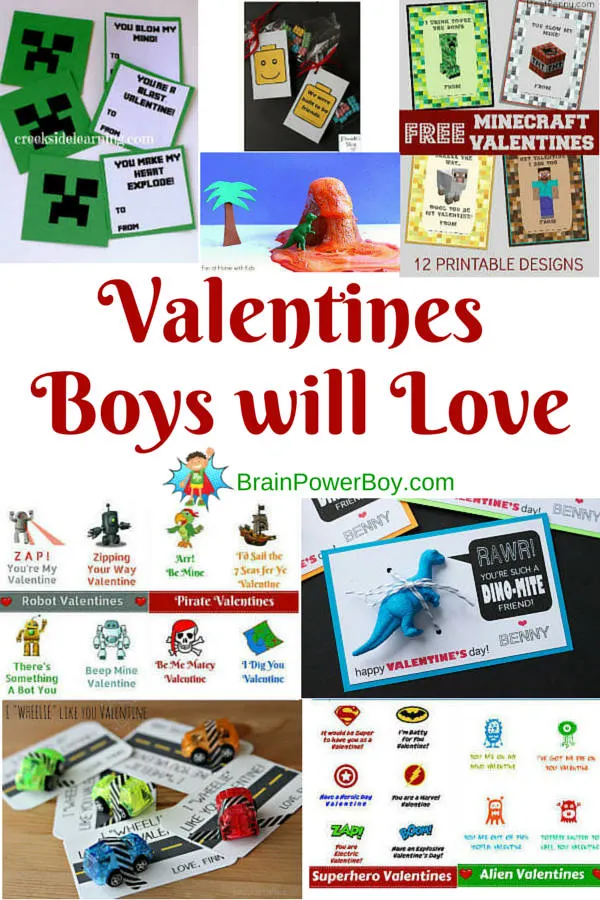 This post may contain affiliate links which means I may receive a small commission, at no cost to you, if you make a purchase through a link. All opinions are my own and I share things I think would be of interest to boys.
Valentines for Boys
LEGO Valentines for Boys
Try our awesome LEGO valentines with Ninjago, Star Wars and Batman Minifigs plus more. They have fun LEGO sayings on them. Print them now for free.
Be sure to check out our new post on LEGO Valentines as well if you boy likes all things brick. There are cool ideas there!!
Here is a LEGO Minifig head printable that might be just the ticket for your boy.
Dinosaur Valentines for Boys
Unfortunately, the person who did the dino eraser valentine with the Rawr Your Such a Dino-Mite Friend shown in the image is no longer blogging and the site has been removed. Here are some dinosaur erasers in case you want to try to recreate the idea. Amazon also has a version with a kit including a similar saying on a card and the erasers.
Erupting Volcano Valentines would be great for a party favor or give it to your boy for Valentine's Day as a neat surprise. The volcano is made from craft foam so it is inexpensive. Free printable.
Note: these are our favorite plastic dinosaurs but you can pick some up at the dollar store as well.
Minecraft Valentines for Boys
These DIY Minecraft Creeper valentines come together with a bit of paper and black electrical tape. Click through the link for directions. Fun!
Update: she now requires an account sign up to get these. It is still free but you have to give name, email and create an account in order to download them. Minecraft valentine printable You get a sheep, a creeper, TNT ("you blow my mine" LOL) and Steve.
Mustache Valentines for Boys
"I mustache you a question . . . will you be my valentine?" Ha, ha, ha. Clever! Go here for printable and directions.
Car Valentines for Boys
These are great if you have a boy who really loves cars. "I Wheelie Like You" with little cars attached. So cute!
More Valentines for Boys!
We have another post as well so be sure to check out these seriously cool valentines!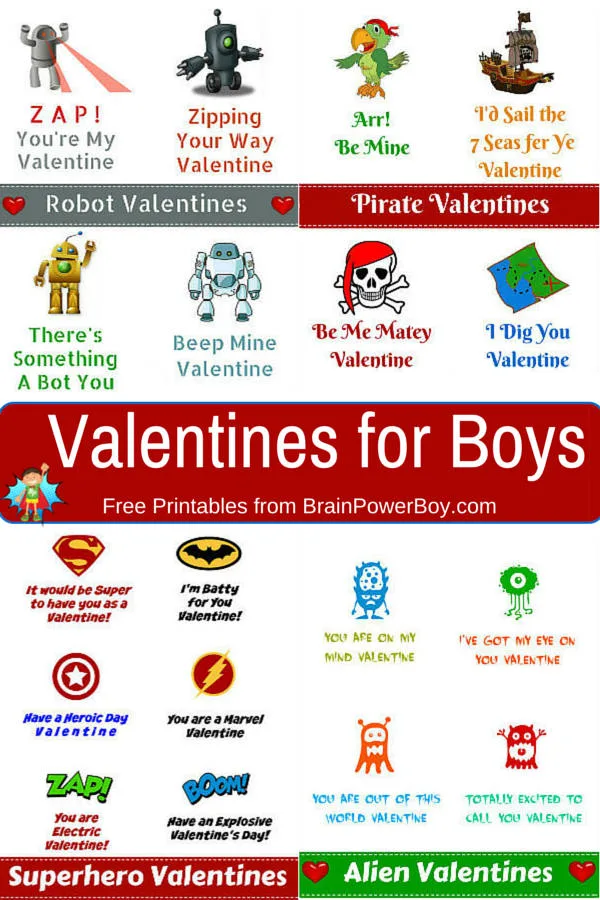 Try these free printable superhero, alien, robot and pirate valentines for a super easy and neat valentine for your boys to give. If you like you can attach a piece of candy and you are set to go. See them all here.
I hope you enjoyed this roundup of Valentines for Boys. I sure liked digging around and finding the very best ones and making some fun boyish Valentines for you to use as well.
Happy Valentine's Day!
Looking for non-candy valentines to buy and be done quickly? We found the best favors for boys and give packaging ideas as well.