I know a lot of you want ideas for getting your boys off screens.
I aim to please! Here are some awesome ideas for screen free activities for boys.
They are great for screen free week or for any day that you want to do something fun away from the glowing lights.
We are adding these to our big list of activities for boys. <<< Be sure to check there for more ideas.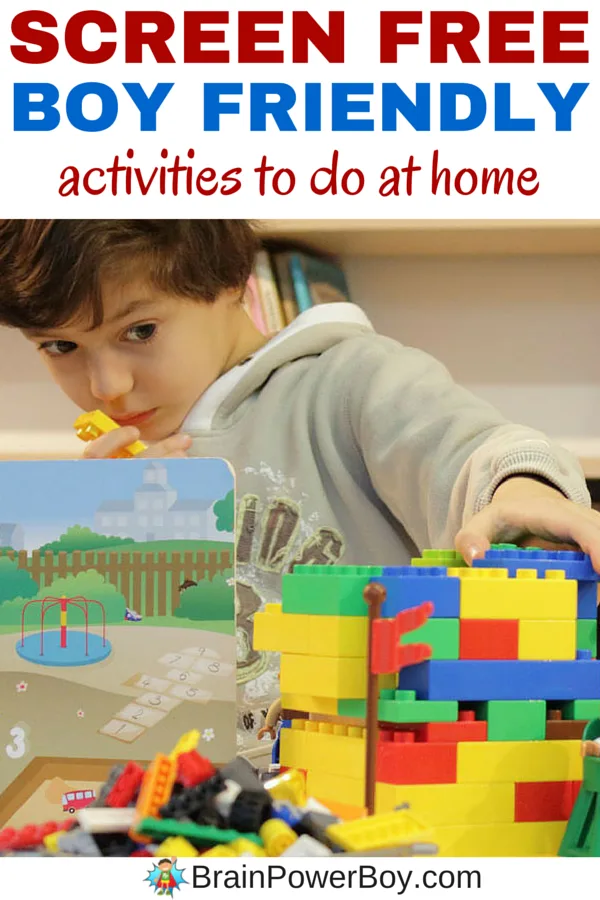 This post may contain affiliate links which means we may receive a small commission, at no cost to you, if you make a purchase through a link. All opinions are our own and we share things we think would be of interest to boys.
Screen Free Activities for Boys
You want to pull them off screen to see their smiling faces once in a while. I get it!
Take a moment to talk with your boy and see if there are some things on this list that he might enjoy doing. You never know, until you ask!
Also take some time to set a few of these screen free activities for boys up and just leave them out or mess around with them a big yourself. Pretty soon you will likely have a willing participant.
Play Games
1. Play balloon archery games.
2. Play a game of war or other card games.
3. Play a classic board game such as chess, backgammon or Chinese checkers.
4. Try a robot or animal forest memory game.
5. Try offline coding.
Backyard Fun
6. Go on a picnic in the backyard.
7. Find birds in the yard and learn about them.
8. Build the birds a feeder or a birdhouse.
9. Cloud watch – what pictures do the clouds make?
10. Learn to use a compass!
11. Climb a tree.
12. Draw HUGE monsters, dinosaurs, or giants with sidewalk chalk.
13. Hang sheets and blankets from trees or poles to make a fort.
14. Build a simple obstacle course and have them try to beat their own time.
Sand, Mud and Water
15. Make sand race tracks for hotwheels or trucks.
16. Build a mini car wash to wash the cars and trucks after sand play.
17. Build a sand fort for plastic army men.
18. Have a water balloon fight (with mom!)
19. Get out squirt guns and blast balloons around the yard.
20. Make a mud pit (use a kiddie pool if you don't want to dig a hole in your yard.)
21. Jump in puddles.
Bugs & Creatures
22. Dig up some worms and watch them wiggle.
23. Get out the butterfly nets and try to catch dragonflies – more challenging!
24. Search for fireflies.
25. Catch toads, frogs or other small creatures.
26. Find caterpillars and set them up in a net to watch them hatch (or get this top rated kit.)
Indoor fun
28. Create huge forts going into multiple rooms.
29. Get out a ream of paper (yes, a whole ream!) and some colored pencils.
30. Map out your house and make a game out of navigating it.
31. Create a maze (either full size or on paper.)
32. Have a camp out in the living room.
33. Create a treasure hunt inside (or outside.) Write down clues and have your boys search.
34. Color (see these free printable coloring pages in superhero and LEGO.)
35. Learn magic tricks and perform for family and friends. See a fun pencil trick here.
Reading and Writing
36. Write an adventure story together where he is the hero.
37. Read books (see our best books for boys lists.)
38. Send a postcard to a friend.
29. Read a favorite book and draw pictures of favorite book characters.
40. Write a letter to a favorite author (directions here.)
41. Grab some additional ideas from this writing article.
Be Silly, Dress Up, Have Fun
42. Tell funny jokes.
43. Play dressup – pirates, zombies, monsters, knights etc. Create costumes!
44. Pretend you are clowns in a circus.
45. Make up an exciting story and act it out.
Cooking and Snacks
46. Cook out in the backyard.
47. Roast mashmallows.
48. Make a superhero lunches.
Build Something
49. Get out the tools and build something (or practice sawing, drilling and hammering.)
50. Make something out of recycled materials – anything! Get the to use their imagination.
51. Make something with LEGO bricks – ideas here.
52. Set out Knex or Erector sets and see what happens.
53. Make a marble run.
54. Build a Rube Goldberg Machine.
55. Set up a hot wheels race track.
56. Create new Thomas the Tank Engine setups with track and destinations.
57. Make a catapult or 10!
Nighttime Fun
58. Play flashlight tag.
59. Learn the constellations.
60. Read outdoors by candlelight.
Let Him Choose and Lead
61. Have an "I'm in Charge" day and let your boy lead and decide what the day will bring.
62. Have him write down 3 things he would like to do today.
63. Have a "Do Nothing" day where you plan nothing and take life as it comes (always good!)
There are a lot of wonderful screen free activities for boys that will keep them happy.
I like to mix things up. I don't mind screen time but I don't want my child on screens all day every day either. Playing together is an important part of building memories!
For more screen free activities for boys ideas try:
50+ Awesome Ideas for Unplugged Play